In San Francisco, you have no shortage of offerings—from ridiculously amazing seafood restaurants (thank you, California) to hiking spots and historic monuments … all of which will astound you—or at least the price tag will. That's why it's important to get as much from every aspect of your visit as you can. I chose, on my last trip, to stay at a historic hotel, the Kimpton Sir Francis Drake, so that my entire visit was meaningful … and had some nice perks.
The building, originally opened in 1928, is gorgeous with opulent high ceilings and gilded touches, and thanks to renovations that kept the original charm of the 1928 hotel, it integrity of the historic building was kept intact. During WWII, some rooms were even used to house military on the way to the front. The building also houses a historic venue. The venue offers a beautiful space for large events with a grand staircase as an accent.
The Union Square hotel offers more than history and a great location; since it's a Kimpton hotel, you know it'll be a luxe experience. (And I absolutely love Kimpton Hotels … like too much.) They kept the hotel's original opulence and added to it with modern touches and furniture. They also kept the unique touch of their greeters dressed as beefeaters; they couldn't be more courteous and make your arrival less stressful.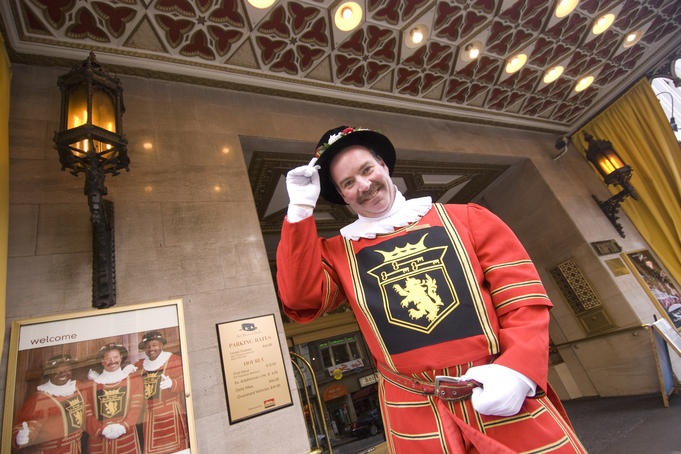 All Kimpton Hotels come with great amenities and perks—free local wine in the lobby at 5-6pm daily, a great restaurant attached, and IGH Rewards (formerly Karma Rewards) offer free WiFi and dining credits. (Sign up … it's free!) Kimpton Hotels also ensure their rooms are comfortable, and they have some of the most comfortable beds you'll find during your travels.
There's plenty of to while you're at the SFD; visit Scala for a delicious rustic Italian meal, grab a drink at Bar Drake, or venture up to the Starlight Room for live music, cocktails, and a great 21st-floor view. Bar Drake is their over-the-top lobby bar with plenty of seating and a well thought-out cocktail menu. You'll find plenty of fellow guests and locals at the bar after hours.
Looking for some slightly off-beat entertainment while you're there? Join the SFD in the Starlight Room on Sundays for their famed Drag Brunch.  At $77 a seat (includes tax + tip), you get great entertainment and a wonderful meal.

When visiting the Bay Area, remember the Sir Francis Drake for a unique lodging experience. Just don't forget to spend your free dining credit and enjoy your free booze in the lobby!
---
KIMPTON SIR FRANCIS DRAKE – SAN FRANCISCO
sirfrancisdrake.com
Facebook: /SirFrancisDrake
Instagram: @sirfrancisdrakesf
450 Powell Street, San Francisco, California
Reservations: 800.795.7129 | Hotel: 415.392.7755
Amenities: pet-friendly, robes,yoga mats in every room, on-site restaurant and two bars, private dining, large event venue, meeting spaces, concierge, laundry service, daily newspapers, fitness center, free bicycle rentals,