The Ravenmaster Royale Punch | Created by Nick Van Tiel 
32 oz homemade lemon & honey shrubb*
33 oz (1 liter) Beefeater Dry gin
10 oz Domaine de Canton ginger liqueur
10 dashes Reagan's orange bitters
16 oz unfiltered/cloudy apple juice
16 oz chilled water
1 bottle of Perrier Jouet Champagne (750ml)
*Shrubb recipe:
12 regular, unwaxed lemons
1 cup granulated sugar
1 cup (8 oz) Honey
10 oz water
Make an oleo-saccharin from the peels of the 12 lemons (no pith), and the sugar. Leave for 30 minutes to extract oils. Mix the 8 oz of honey with 10 oz water and add oleo saccharin, mix well until sugar etc is dissolved. Juice the 12 lemons (approx 14 oz of juice) and add this also Fine strain the peels, pulp and sugar out, which should leave 1 quart of shrubb. Serve in a 4 quart punch bowl. Chill with a large 2 pound ice block Garnish with lemon wheels with cloves stuck into them, and a light grating of nutmeg.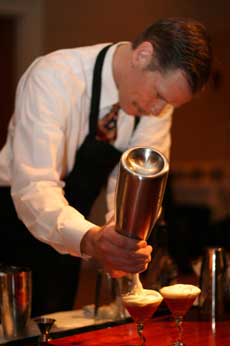 Bee Sting | Created by John Gertsen of Boston's Drink 
2 parts Beefeater 24 Gin
½ part Lemon Juice
½ part Honey Syrup (1:1 with water)
~12 Peppercorns
Muddle peppercorns in shaker. Add rest of ingredients and ice, shake, and strain into a cocktail glass.
Queen Bee's Knees
6 parts Beefeater Gin
3 parts lemon juice
1 part honey syrup
Champagne/Sparkling Wine
Shake and strain over cubed ice into Wine glass. 
Green Snapper
4 parts Beefeater Gin
8 parts pineapple juice
1 part honey syrup
1 part lime juice
6 mint leaves
3 dashes green Tobasco
Small handful coriander
Pinch sea salt
Blend all ingredients except gin and strain through a sieve into small jug. Add ice cubes and gin, and then transfer everything into a Highball glass. Decorate with cucumber sticks.