What whiskey will not cure, there is no cure for.
Boozy Advent Calendars
We've all done the chocolate calendar, but this is a fun twist to gift to the alcohol aficionado in your life.  Each little door reveals a 3cL sample of different alcohol (you can pick whisky or gin).  By December 24, you'll have swigged 72cL of delicious spirits .  BONUS: one whisky door holds a 50 year old single malt Scotch.  This gives the term "holiday spirit" a whole new meaning.  Order ASAP so they don't miss a day!
$128.01 (gin) or $240.08 (whisky) per calendar
MastersofMalt.com
BevShots Scarf
Why not make your drink a fashion statement?  Bevshots has items, from coasters to canvas prints, adorned with your favorite drink's picture … magnified.  The scarves are large enough to be worn many ways and are available in many different drink prints (shown on the right in "Black Russian").
$44.99 per scarf (currently on sale for $37.99)
Bevshots.com or (850)807-0507
The Original Whiskey Ball
A whiskey ball maker is a staple for any whiskey drinker's bar (err … freezer?).  A larger piece of ice means your beverage will stay cold longer, without melting the ice as fast (therefore, no more watery whiskey!)  I have a set of these and LOVE them.  I always keep a couple frozen balls on-hand … because you never know when Don Draper could stop by.
$23.95 (set of two molds)
TheWhiskeyBall.com (a cheaper alternative to last year's)
ALTUZARRA Collection from the Target + Nieman Marcus CFDA Collaboration
A luxurious-looking glass makes a drink taste more intriguing (or does it?).  Get a great set of glasses from Zara Home.  Take a tip from Southern Living and mix-and-match!
Black Tray – $79.99, Double Old Fashioned Glasses – $49.99 (set of 4), Cocktail Shaker $49.99
Target stores starting December 1 or on Target.com starting December 1 at 12:01am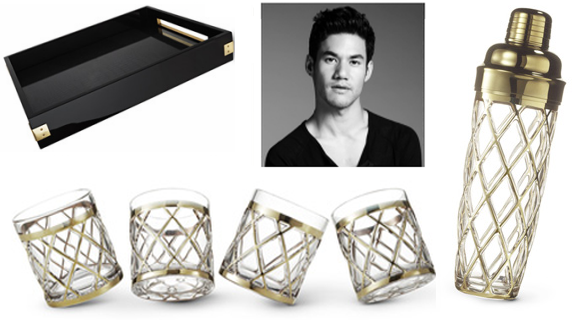 Homemade Infused Liquors
A personal and thoughtful gift.  Use your imagination to come up with flavors.  Southern Living's Apple Pie Infused Bourbon sounds tasty, no?  Here's how I made it.
Get unique bottles from SpecialtyBottle.com 
Cynthia Rowley Flask Bangle
C'est magnifique!  Available in gold or chrome, this statement piece has been souped-up and made functional (well, functional for a boozehound).  At Fashion Week in NY this year, Cynthia Rowley showed off these boozy bangles in her Spring 2013 line … and I swooned.  If anyone wants to gift one of these to me in gold, I'd be forever grateful.
$225 per bangle
CynthiaRowley.com
Booze.
A never-fail gift, giving someone a thoughtfully-chosen spirit is sure to raise his.  My go-to liquor store is Sigel's on Greenville.  Ask for Ruben.  Don't forget the bow.
Sigel's, 5757 Greenville Ave 
Again, I traveled outside of my bubble.  And again, I was glad I did.  I'm sure you've heard the buzz about Goodfriend, the new beer and burger house over on Peavy and Garland Road one of the Vickery Park owners and a former Vick bartender, Matt and Josh, respectively.  I'll start by saying this, don't wait to go until after reading this — get off your ass and go NOW.
My boyfriend and I prepared for our adventure with a full tank of gas, water bottles, and granola bars stocked … you know, just in case.  The drive there wasn't bad at all.  Take Mockingbird east and just keep onnnnnnnnn going until you see white lights strung across a huge patio on your left that will beam you in.  Parking was an issue, but I found a spot that my car hardly fit in, but fit nonetheless.  (I didn't take the time to figure out where alternate parking was – sorry).
Give yourself plenty of time for this dinner because you're probably going to wait.  So many make the trip for the delicious food and drink at Goodfriend that we were told that there was an hour wait.  We ordered a drink and found a seat without a grumble because the place smelled so good that we didn't want to risk being kicked out for being bratty patrons.  The staff was so friendly that that probably wouldn't be an issue even if we were rude.
Time to set the scene: a giant horseshoe-shaped bar is the center of the restaurant with bar seating on the left and restaurant seating on the right and stained glass above the bar.  The decor is a hodge-podge of rustic engineering-type paraphernalia with an industrial touch including a giant table with a HUUUUGE fan inside.  Sports fans: there are big TVs in the bar seating area and behind the bar and for commercials breaks you can enjoy the two dart boards in the corner.
The drinks were delicious.  The cocktail menu is whiskey heavy with their list of whiskey cocktails dubbed the Magnificent Seven — and they are (magnificent, that is).  I started with a Manhattan, the likes of which would have given my Manhattan-loving uncle a run for his money.  After drinking the Manhattan, I felt like I could box a kangaroo – true story.  The drinks were strong and I look forward to making a second trip to try some of the other M7s like John the Baptist, Bobby Burns, and the Goodfriend itself.
The offerings at GF include an American craft beer menu which will feature standard craft beers, seasonal beers, and special release brews.  Get bored with beers easily?  They post their "rotator" beers on a huge piece of paper inside the bar (and on Facebook) that are switched out quite often.  In addition to their beers they have a fully (and I mean FULLY) stocked bar.
The food was ah-mazing.  We made our way to our hard-earned table and when Matt handed us our menus, deciding which burger to order was one of the more difficult decisions I've faced in a month (I live a charmed life).  They offer grass fed burgers and some more exotic options as well as a veggie burger (if you must).  I landed on the Lolita lamb burger, the Boy had a turkey burger, and of course we got cheese fries to share.  The burgers were delectable and I finished every bite of mine along with a good portion of the cheese fries (the ranch is mind blowing).  The stomach ache was well worth it!
Goodfriend Beer Garden and Burger House
facebook | @goodfriendbgbh
1154 Peavy Rd., Dallas, TX 75218
(214) 324-3335